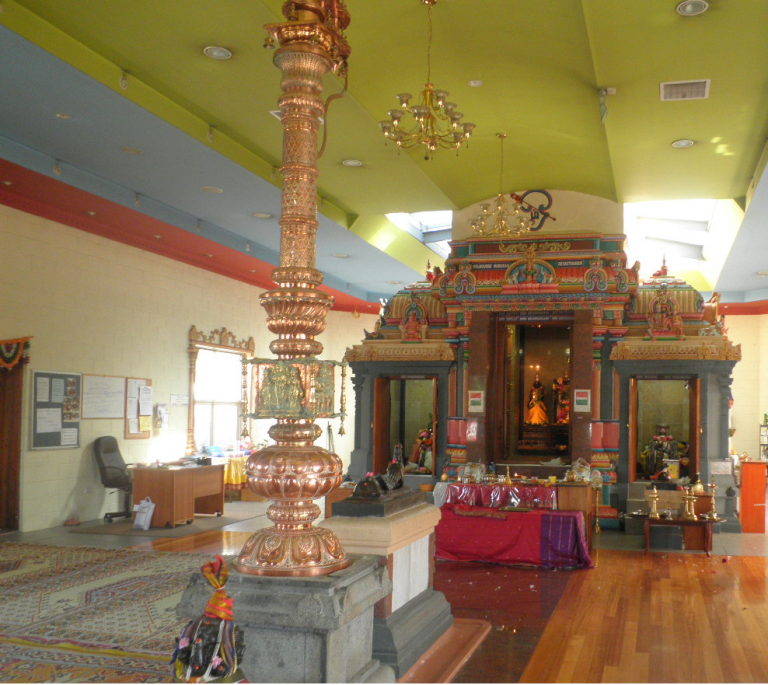 Melbourne Murugan Temple at Sunshine is located in the western suburbs of Melbourne.

This center is the fruit of ardent devotees of Murukan who so desired to build a dedicated temple for their beloved god. The trust to build the temple was formed in 1995, then temple project was launched and the first stage of the temple was completed in January 1999. Currently the statues of Lord Murukan with Teyvanai and Valli and Vinayakar are held in a hall where a resident priest conducts puja and abishekam. Idols of Navagraham are enshrined too. Melbourne Murukan Cultural Center manages this temple and endeavors to build a fully-fledged traditional style temple in the near future.

This center attracts devotees from far and wide.
Inside the temple there are three shrines:

    Murugan with Valli & Devasena
    Shrine for Vinayagar (Ganesha)
    Shrine for Sivalingam & Parvathi

There are two Vasantha Mandapams: One for Murugan and the other for Murugan as Shanmugar.

There are various parivara moorthies including Dhakshanamurthy, Visnu, & Durga.

The temple also have a place for Navagrahas and a shrine for Hanuman in the front of the Temple.